BOBBY SANDS WANTED TO WRITE LIKE ETHNA CARBERRY
One of the sad-funny things I learned when I read more recent accounts of Bobby Sands Hunger Strike was that he loved the poetry of Ethna Carberry.
He was inspired by her poem that was a patriotic song "Roddy McCorley" and in his last days he asked his jail neighbor Brendan Hughes whom he called the Dark if he could give him a letter to mail to
Ethna. He
added that he did not have her address. The Dark answered "I hope you have a ouija board in there because she does not have an address. She died in 1902"
Here's how one reference work described the popular song:
RODDY McCORLEY.
Irish, Air or March (cut time). D Major (Miller & Perron): G Major (Carlin). Standard tuning (fiddle). One part (Miller & Perron): AABB (Carlin). There were two songs named "Roddy McCorley" (spellings vary). One is older, and may have been written soon after the Irish rebellion of 1798. The other was written in 1898 for the centenary of the rebellion, and while the tune is traditional (also used for the song "
Sean South of Garryowen
")
the words are the product of County Antrim-born Ethna Carberry [1], the pseudonym of Anna MacManus, née Johnston, (1864-1902),
an Irish writer and poet. Her poetry was published by her husband after her death in
The Four Winds of Eirinn
(1902), and proved a popular volume that contained, among many other pieces, her "Rody M'Corley" (pp. 82-83).
The words in her version commemorate a martyr of the 1798 rebellion. They begin:
O see the fleet-foot host of men, who march with faces drawn,
From farmstead and from fishers' cot, along the banks of Ban;
They come with vengeance in their eyes. Too late! Too late are they,
For young Roddy McCorley goes to die on the bridge of Toome today.

Oh Ireland, Mother Ireland, you love them still the best
The fearless brave who fighting fall upon your hapless breast,
But never a one of all your dead more bravely fell in fray,
Than he who marches to his fate on the bridge of Toome today.

The truth of Roddy McCorley is more complicated

and confused than Carberry's portrayal. Despite some assumptions he was Catholic, the best information is that he was a County Antrim Presbyterian. He also seems to have come late to the cause of the United Irishmen, and while he may have fought in Antrim, it was for his participation in an organized patriotic gang (The Archer Gang) afterwards that seems to have been the reason for his death sentence. The song was recorded and popularized by the Clancy Brothers, the Kingston Trio and others. It is a frequently heard in march medley's played by Irish musicians and is considered a 'grand old chestnut' of a tune.
Here is a verse from the lyric written by Bobby Sands:
Oh! I am Rodai of Duneane
And those of no property bear my name.
Those kingly freemen who sweat and toil
And yet who never gain nor reign.
I love these wretched gentle souls
They! condemned to death from birth,
I stand by Tone and I stand by truth
And the wretched of this earth!
From the poem Rodaí MacCorlaí written by Bobby Sands,
Bobby has transformed it into a marching song for world socialism, Wasn't he a great one!
O see the fleet-foot host of men,
Who march with faces drawn,
From farmstead and from fishers' cot,
Along the banks of Ban;
They come with vengeance in their eyes.
Too late! Too late are they,
For young Roddy McCorley goes to die
On the bridge of Toome today.
Up the narrow street he stepped,
So smiling, proud and young.
About the hemp-rope on his neck,
The golden ringlets clung;
There's ne'er a tear in his blue eyes,
Fearless and brave are they,
As young Roddy McCorley goes to die
On the bridge of Toome today.
When last this narrow street he trod,
His shining pike in hand
Behind him marched, in grim array,
A earnest stalwart band.
To Antrim town! To Antrim town,
He led them to the fray,
But young Roddy McCorley goes to die
On the bridge of Toome today.
YES, Bobby Sands was so taken with Ethna;s work that he wrote his own ballad version of Roddy Mc Corley. He recognized a fellow patriot in the woman from Antrim.
Ethna Carberry was the pen name used by a 19
th
century Irish poet and journalist whose short life was ended by illness at the age of 35. She collaborated on the production of
two Irish Nationalist magazines with another Irish poet, her friend Alice Milligan.
Born Anna Johnston on the 3
rd
December 1866 in Ballymena, County Antrim. Her father was a timber merchant by trade but also
a prominent Irish Republican in the Fenian movement
. She was writing verse from a very young age and had her first piece published at the age of fifteen. She went on to have a number of other pieces of work published in periodicals such as the
Nation, Catholic Fireside
and
United Ireland
.
The Irish Nationalist cause was very close to her heart
and she lectured up and down the country on the subject,
along with Alice Milligan and Maud Gonne, the latter being the leader of a revolutionary women's organisation called
Inghinidhe na hÉireann
, which translates as "Daughters of Ireland".
With Milligan's help, she wrote plays to promote the organisation's cultural activities.
The pair were also responsible for The Northern Patriot and The Shan Van Vocht, both well-read nationalist publications.
The latter title has been acknowledged as a major contributory factor to the "Irish Revival" in cultural activities.
Alice only started using the pen name Ethna Carberry in 1901
when she married fellow writer and folklorist Séamus MacManus. She explained that she did not wish to write using her now married name as she wanted to avoid being confused with him. Tragically the marriage only lasted a year as Alice fell ill with gastritis and died. Séamus lived for a further 58 years and never re-married. The impact on his life of his wife was so great, and he wrote a memoir in her honour. He published the work of Ethna Carbery in
The Four Winds of Erin
after her death and this collection was extremely popular.
She was, without doubt, loved throughout her native land and much further afield.
The fame of Ethna Carbery spread across the Atlantic.
As well as being a prominent and fervent supporter of and writer about Irish Republicanism, she wrote poetry as if her mind was:

One of her most poignant poems is reproduced here. My Dearest appears to show Ethna searching deep into her own soul for inspiration: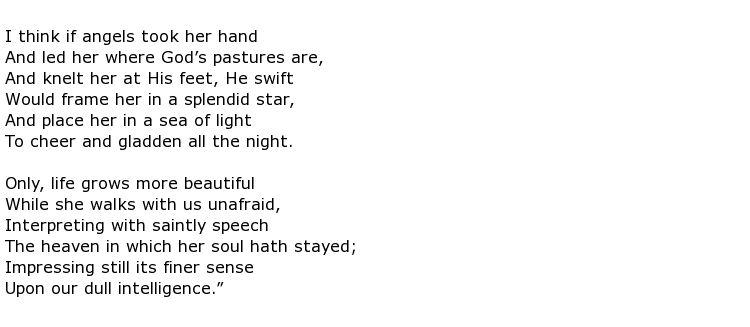 Ethna Carberry was a deeply patriotic individual whose love for all those who had contributed to, and died for, her country was an almost all-consuming passion and this fervour was to be found in much of her work. She wrote fluently, easily and with infectious enthusiasm. Her body of work would, no doubt have been greatly enhanced had she lived a longer life.
Ethna Carberry died on the 21st April 1902 at the tragically young age of 35.
BOBBY SANDS DIED ON MAY 6 1981 AT THE TRAGICALLY YOUNG AGE OF 27.
Two kindred spirits her work reached across a century and soothed the tortured body and soul of a fellow REPUBLICAN PATRIOT.
SHE SPURRED HIM INTO SONG.